Looking for a loan? Simple Path Financial LLC® is a lender and loan referral service that may help you get the funding you need and consolidate debt. They offer loans for a variety of purposes, including personal loans, business loans, mortgage loans, and student loans.
The company uses multiple websites to advertise its services. You can check out their services at: SpfSavings.com, SPFLends.com, Apply2Save.com, or SPFLoans.com. Or go to GoSimplePath.com.
Review Summary:
There are many doubts about the trustworthiness of SIMPLE PATH FINANCIAL, which is why it has only received one star.

I was shocked to get a direct mail offer from Simple Path Financial recently. It said I had been pre-approved for a $40,000 loan at an interest rate of 5.99% (see sample below). I was thrilled at the prospect of accessing such funds at such a low-interest rate. However, upon closer inspection of the fine print, I found that the offer wasn't as good as it first appeared.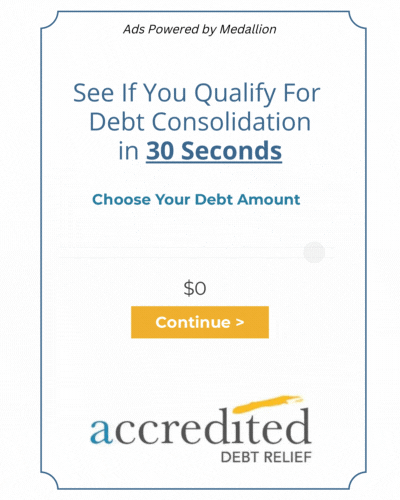 There are some things to keep in mind about the APRs and fees that come with taking out a loan with them:
Rates on loans vary depending on the lender but can range from 5.99%-36%.
Loans may be subject to origination fees, which can range from 1% to 5% of the loan amount, depending on state law.
Not all borrowers will qualify for the same rate when a rate is listed "as low as".
If you're considering using Simple Path Financial to consolidate debt, be sure to read the fine print carefully. Here is what we found:
All business, mortgage, and student loan requests submitted through Simple Path Financial are funded by a third party.
Loans are not available in all states.
In the states of Indiana, South Dakota, and Washington D.C. your personal loan will be fulfilled via their preferred network of third-party lenders.
Simple Path Financial has no control over participating third-party lender credit worthiness eligibility criteria.
On the Simple Path Financial licensing page, you can find quotes to consolidate debt for rates that are 5.99% to 36% in most states. This is an important factor to consider when making your decision about which company to use.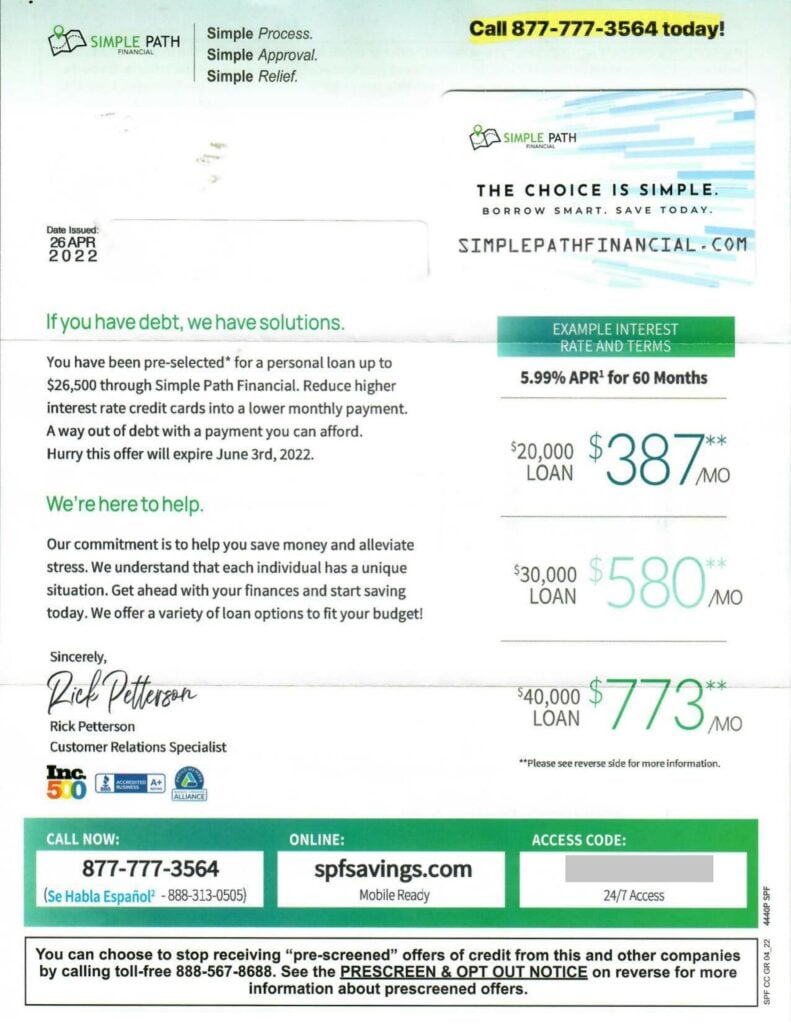 What is Simple Path Financial?
Simple Path Financial is a debt consolidation company licensed provider of personal loans. With six years of experience, they claim to help people consolidate debt and find the financial freedom they deserve. They are located at 16842 Von Karman Ave Ste 200 Irvine, CA 92606-4989 and you can contact Simple Path Financial at (855) 842-3078.
Simple Path Financial is a company with an A+ rating from the BBB. They have been accredited since 5/6/2017 and have an average of 553 customer reviews. In the last 3 years, they have had 10 complaints closed.
Simple Path Financial Aliases
SpfSavings.com
SPFLends.com
Apply2Save.com
SPFLoans.com
GoSimplePath.com
How does Simple Path Financial work?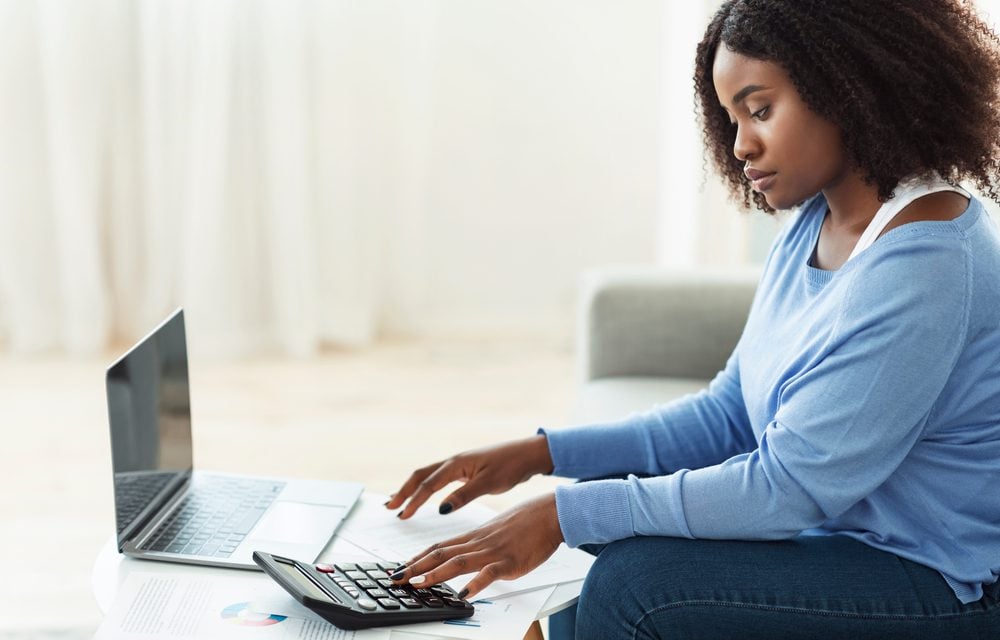 Simple Path Financial is an established provider of financial services. As a licensed consumer lender, Simple Path offers a debt consolidation program to help you find the best options to match your needs in consolidating debt. They claim to work with reputable lenders that can provide you with competitive rates in today's market, so you can get your freedom debt relief
They offer personal, credit card debt, business, student, and mortgage loans. You can use a personal loan for many different purposes, such as home improvement, debt consolidation, or auto financing.

Loans may not be available in all states. Lenders participating in Simple Path Financial's program have their own eligibility criteria for creditworthiness and APR/Interest rates may vary.
What are the fees for Simple Path Financial?
Different borrowers will qualify for different rates when a rate is listed "as low as". The interest rates will vary depending on the borrower's creditworthiness, which includes factors such as debt ratio and credit history. Lender terms will also play a role in determining the interest rate. Interest rates can range from 5.99%-36%. All loans may be subject to origination fees, which can be 1% – 5% of the loan amount if allowed by state law.
There are no down payments or pre-payment penalties.
Simple Path Financial Reviews BBB
At Simple Path Financial, they must be proud to have an A+ rating from the BBB. They've been accredited since 2017 and have an average of 553 customer reviews. In the last three years, they've closed 10 complaints.
Here are some debt consolidation reviews from BBB Reviews:
Justin F 08/19/2022
I am currently a pending client. I spoke with a customer service representative who was very well-spoken and knowledgeable about debt settlement and consolidation. My interest was peaked but I wanted to take the time and review and research more about this company. ****** reviews and BBB reviews are my best friend. My hesitation is that I do not see any reviews about the actual debt settlement product.
I have noticed a ton of reviews about customer service which was remarkable, however, I need reviews and testimonials about the product actually working for people. I feel that five-star ratings are geared more toward the customer service that has been received versus the effectiveness of the product. I will continue to dig for reviews that speak to the actual product before I make a decision to proceed.
Shauna C 09/07/2022
Wish I could give ***************** higher than 5 stars. He was incredibly professional and knowledgeable, easy to work with, and always prompt with replies or requests. He made this whole process so much easier.
Evelyn G 08/17/2022
SIMPLE PATH FINANCIAL sent me a pre-approved letter offering me **************************:great! I called: and it took them less than 2 minutes to say they could not help me because I wasn't in enough unsecured debt, to even be considered. Then:#1: why did they send me an offer? #2: this company wants you to be in over your head, with the money ?? problems in order to help you?
Because they can **** UP the interest rates!?? Well, that doesn't surprise me, BUT: you guys suck! I could afford the EFfIn loan! Would pay it back right away, but it took them longer to answer the phone ?? than it did for an answer? Based on the question? Do you have more than ***** dollars I'm unsecured loan? No, I don't my answer is sorry you do not qualify. Not by my income or credit score or my ability to pay back? Something is wrong with all this??????? WTF? My advice is don't live beyond your means, and everything will work out&$)(;:/-@&$K these ?? peeps,… Sincerely: your preapproved almost customer! ??CLOWNS!
Hasan M 08/24/2022
Very helpful and courteous. ****** helped me through the whole process step by step and cared about helping me with my debt.
Steven L 08/23/2022
I wanted information about a loan. They said I did not qualify and that was fine. They then offered me a program. I informed the representative that I was not interested in debt consolidation at this time. The representative then became pushy, aggressive, and rude. I do not like hard sell tactics. He was like a used car salesman. The way he behaved made it seem like a scam.
Jesus V 08/23/2022
Great experience and great customer service representative. **** is awesome and helped me so much even, coached me on how the numbers would work out and the flexibility I would have. You rock **** thank you again so much!
Simple Path Financial FAQs
How does Simple Path Financial affect your credit?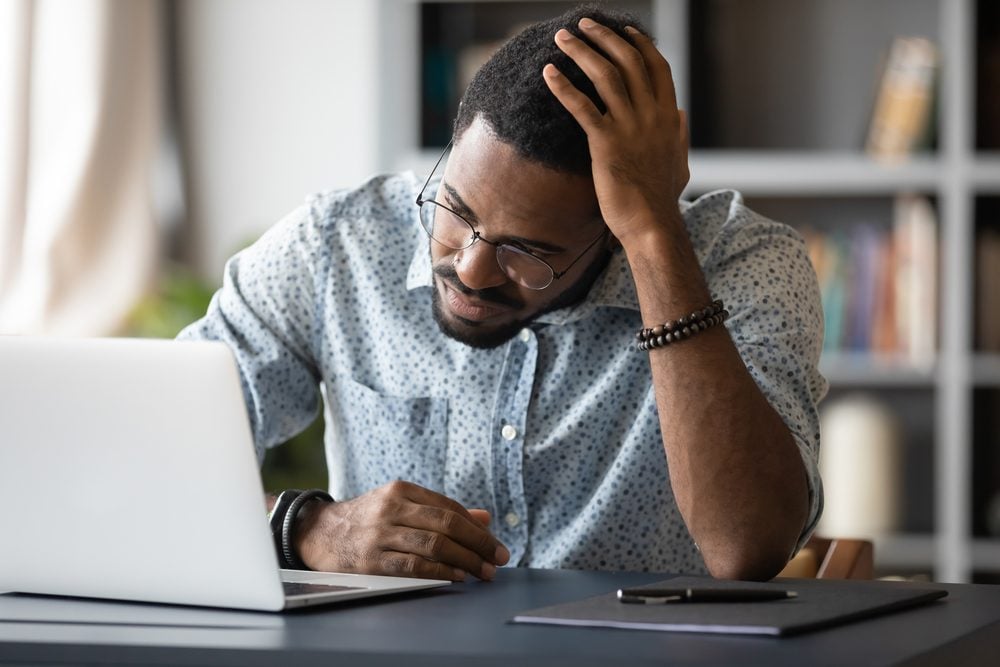 Simple Path Financial may obtain and review a consumer credit report in order to verify your identity or for other purposes. If you request it, they will notify you of the name and address of the credit reporting agency that supplied the report in order to get your debt management plan. They may also request and use subsequent credit reports when updating, renewing, or extending your credit.
It's important to understand that there are two types of inquiries: soft and hard. A soft inquiry, like when you view your own credit report, won't lower your score. But a hard inquiry, like when you're actively shopping for a new credit card or mortgage, can temporarily lower your score.
Submitting an offer inquiry will not impact your credit score. However, if you accept a loan offer by signing the lender's agreement, this may result in a hard inquiry being reported to at least one Credit Reporting Agency. This could affect your credit score.
How to qualify for a Simple Path Financial personal loan?
If you're looking to apply for a loan, there are a few things you'll need in order to qualify. First, you must be a U.S. citizen or permanent resident, and at least 18 years old. You'll also need a valid bank account and Social Security Number or FEIN.
All loan applications are subject to credit review and approval, which means that lenders will consider checking your minimum credit score, employment and tax history, and debt-to-income ratio before making a decision. Qualification criteria can vary depending on the lender, so it's important to do your research before applying and getting your debt management plan.
What is the APR on a Simple Path personal loan?
To qualify for the rates advertised "as low as," your creditworthiness will be taken into account. This includes factors like your debt ratio and credit history. Interest rates may vary depending on the lender, and are subject to change. Rates could be as low as 5.99% or as high as 36%. All loans are subject to origination fees, which could be 1-5% of the loan amount, depending on state law.
How much can you borrow?
For personal loans, you can apply for any amount between $3,000 and $100,000. If you want to borrow more than $35,000, your loan will be referred to one of our lending affiliates. For business loans, you can apply for any amount between $2,000 and $250,000. And for mortgage loans, you can apply for any amount between $50,000 and $5 million. As for student loans, you can apply for any amount between $7,500 and $250,000.
How long is the funding process?
The funding process usually takes 24 to 48 hours. From the time your loan is approved, you can expect to receive your loan funds within that timeframe. However, please note that weekends and holidays can sometimes extend funding times. In addition, your bank's ACH processing policy may also affect how long it takes for you to get your money.
Types of Loans Simple Path Financial Provides
Simple Path Financial provides you with various types of debt consolidation loans, and the following are:
Personal
They offer unsecured personal loans from $7,500 up to $100,000 that can be used for a variety of purposes, including debt consolidation, home improvement, special occasions, educational expenses, medical bills, moving costs, birth or adoption, and major purchases.
Mortgage
If you're looking to buy or refinance a home, they offer customized mortgage solutions to fit your needs. Loan amounts from $50,000-$5,000,000 are available, and they offer a variety of mortgages including:
First-time homebuyer programs
FHA loans
Fixed-rate mortgages
Adjustable rate mortgages (ARM)
Conventional loans
Streamline loans
HARP loans
VA loans
Business
You can get a fixed-rate loan from $250,000 up to $1MM+ for your business needs. This can include inventory, hiring additional staff, renovations or expansions, paying taxes, buying equipment, and more. You can use this loan to bridge cash flow gaps and make payroll.
Student
For Student Loans, you can apply for any amount between $7,500.00 and $250,000.00. You can use their student loans to save money, pay off your loan faster, avoid origination and prepayment fees, get a fixed interest rate, and have access to career support and wealth advisors.
States in Which Simple Path Financial Is Available
The following are the states where you can avail of Simple Path Financials' direct services.
| | | |
| --- | --- | --- |
| Alabama | Arizona | Alaska |
| Arkansas | California | Florida |
| Idaho | Iowa | Kentucky |
| Louisiana | Maryland | Massachusetts |
| Michigan | Missouri | Montana |
| New York | New Mexico | Nebraska |
| North Carolina | Ohio | Oklahoma |
| Pennsylvania | Texas | Wisconsin |
States in Which Simple Path Financial Provide You Third-Party Service
The following are the states where Simple Path Financial provides you with third-party services.
Indiana
South Dakota
Washington DC
Is Simple Path Financial a scam?
If you're in need of a loan, simplepathfinancial.com could be a good option to consider. They are a legitimate, licensed lender who also provides referral services for loans. Although there are mixed reviews of them online, they have an A+ rating from the Better Business Bureau.
Make sure to always do your research and carefully read the fine print before agreeing to anything.
Do you have any experience with Simple Path Financial? If so, we'd love to hear about it!
Comments Rating
( reviews)