Sun Loan is a company that specializes in personal installment loans for different purposes. They are a financial institution that offers loans for things like debt consolidation, bad credit loans, and more. They advertise their services on their website, sunloan.com.
Sun Loan Summary

There are many things to consider before taking out a personal loan. One of the most important is to compare multiple lenders. With so many options available, it's crucial to do your research and choose the best one for your needs. Each lender has its advantages and disadvantages, so it's important to understand all of your options before making a decision.
There are many options when it comes to choosing a lender. Recently, Sun Loan has been getting a lot of attention. But is this the best choice for you?
With some research into their website and terms and conditions, we found some interesting facts. Here are a few that we thought were noteworthy: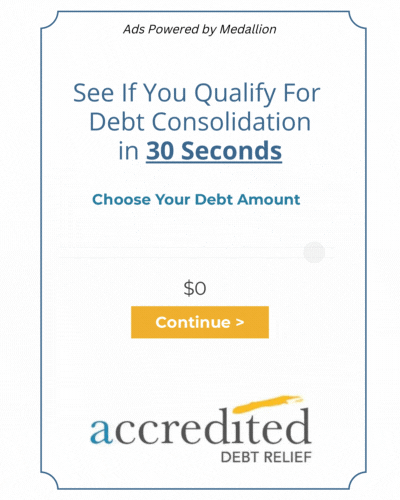 APRs range between 55.56% and 210.78%
Loan amounts vary by state – you can borrow up to $7,500
They offer loan repayment terms between 3 to 36 months
Loans are available in 7 states (Alabama Illinois Missouri Nevada New Mexico Oklahoma Texas)
You can review their licenses and disclosures here.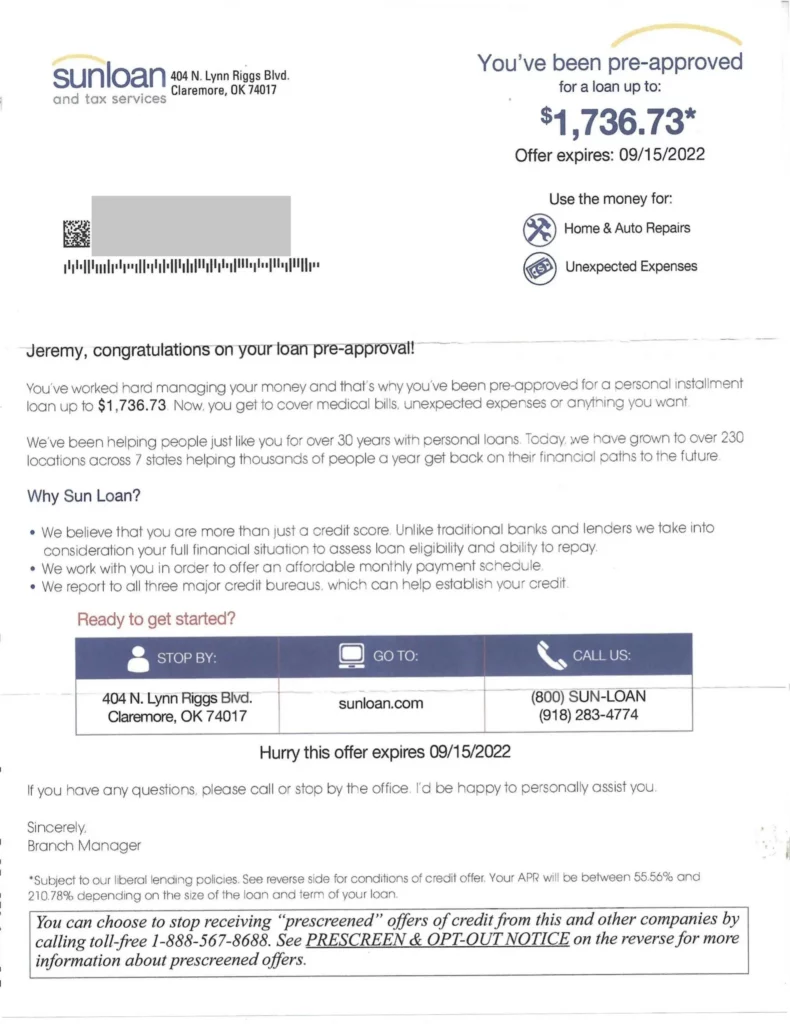 What is Sun Loan?
For almost three decades, Sun Loan has been providing individuals with personal installment loans. They are based in San Antonio, Texas, and can be reached by Sun Loan office phone at (844) 786-5626.
Although the Better Business Bureau (BBB) has given the Sun Loan Company a D rating, it is important to remember that the company is not accredited by the BBB. Additionally, customers have given the company a 1.5-star rating out of 5 stars. They have received an average of 8 customer reviews and closed 28 complaints in the last 3 years.
How does Sun Loan work?
You can apply for a loan from Sun Loan online, in-branch, and over-the-phone application processes make it easy to get the money you need now. With installment loans, you can pay back the loan over time in scheduled monthly payments.
The loan is given in one lump sum in a check or bank deposit and then typically repaid by the borrower in smaller installments. The repayment schedule for a loan depends on the conditions of the loan and the amount borrowed.
How to qualify for Sun Loan?
Sun Loan states on its website that they believe a person's ability to repay should be the primary factor in deciding whether to approve a loan. In their loan contract, they take into account not only credit score but factors such as income, residency, and past credit history in making our decision. But, to qualify for a Sun Loan personal loan you don't need a bank account or job. The principal requirement is the person's ability to repay and be on time with their affordable monthly payments.
Sun Loan BBB Reviews
The Sun Loan Reviews has a D rating given by the Better Business Bureau (BBB), and it is important to note that the company is not accredited by the BBB. Additionally, customers have given Sun Loan Company Reviews a 1.5-star rating out of 5 stars. On average, they have received 8 customer reviews and 28 complaints closed in the last 3 years.

Here are some of their BBB reviews:
Celeste G 10/18/2022
Great customer service!! Friendly and helpful, smooth process…I highly recommend it for those starting/ restarting credit. I received a small emergency loan, and am grateful they were here to help. I am appreciating Sunloan on **********!! I worked with ***************** Wonderful! Thank you.
Deanna M 10/05/2022
I have an account that is past due since I wasn't taking their calls they called my daughter. Fair enough she a reference. However, they provided her with information regarding my loan and asked her to make a full payment. Then told her I would be due again on 9/14 if she would like to call them they could do another payment then. I called corporate and was told it would be handled. ****** I do not feel it was.
Pat J 08/27/2022
Red flag! Sun Loans are predatory lenders…rates are 80% higher! Don't do it!
Michael W 06/18/2022
Predatory lender! Super high rates of 50 to 200% interest Do not use this group!
Sun Loan FAQs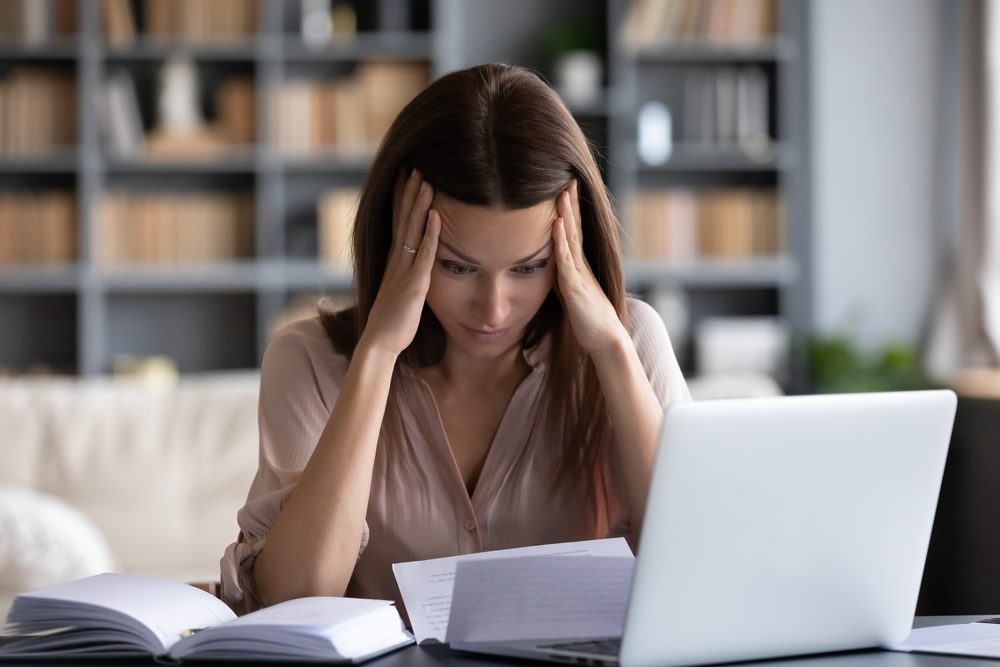 How much does Sun Loan charge?
 Your creditworthiness will determine how much you can borrow from Sun Loan and what interest rate you'll pay. Generally, customers in their bank account can borrow up $7,500 with an APR between 55.56% and 210.78%. Loan terms typically range from 3 to 36 months.
Are there any pre-payment penalties?
Sun Loan offers loans with no prepayment penalties. This means that you can pay off your loan faster than originally scheduled without any extra fees.
How does Sun Loan affect your credit?
There are a few things to keep in mind before taking out a loan, such as how it could affect your credit score. It's important to understand the process and what kind of impact it may have on your credit rating.
Different lenders have different policies, but most will do a soft credit check when you first apply for a loan. This is so they can give you an idea of the interest rates and loan terms you could qualify for.
Applying for a loan will require the lender to do a hard credit inquiry, which can lower your credit score. But once you move forward with the application process, you'll be able to get the final rates and terms.
How to cancel Sun Loan?
A personal loan can be a great way to get the funds you need, but it's important to be confident in your decision before taking one out. Once the money is disbursed into your account, you won't be able to reverse or cancel the transaction, so make sure you're certain about it before going ahead.
Are you struggling to make ends meet? Don't worry, you're not alone. Here are some tips to help you get back on track.
There are a few things you can do to get your finances in order.
Budgeting is a great way to become more aware of your spending and make better decisions overall. By setting a budget and sticking to it, you can gain control of your finances and improve your financial situation.
One helpful step when it comes to finances is to consult with a financial advisor. They will be able to understand your unique circumstances and help you plan accordingly. This way, you can make the best choices for your situation.
Don't stress too much about debt. Many companies are more than happy to work out a manageable payment plan with customers. So shoot their customer service team an email for more info.
Is Sun Loan legit or a scam?
Sun Loan is a personal loan provider that has been in business since 1993. The Better Business Bureau has not accredited them and they have a D rating on their file. As far as customer reviews go, their rating is 1.5 stars out of 5. This shows that most people have reported negative experiences with their service.
Loans can be useful in a variety of situations. Some people take out loans to buy a car or a house. Others might use loans for medical bills or college tuition. It is important to research different lenders and compare rates before taking out a loan. This way, you can make sure you are getting the best deal possible and avoid taking out a loan that you cannot afford.
Have you worked with sunloan.com before? Feel free to share your experience in the comments below.
We hope this review was helpful!
Sun Loans Review
Sun Loans Summary
The Sun Loan Company has a D rating given by the Better Business Bureau (BBB), and it is important to note that the company is not accredited by the BBB. Additionally, customers have given Sun Loan Company a 1.5-star rating out of 5 stars. On average, they have received 8 customer reviews and 28 complaints closed in the last 3 years.
Comments Rating
( reviews)